I made the changes to the engine so that it can run 6,8 or 10 legs, which has not been tested but is theorectically working.
I am also changing my configuration pages to allow easier setup for kit users. Rather than having to enter all the paramters
by hand the user can choose from the menu which configuration they wish to use. Custon Designers will still have to enter
the parameters themselves.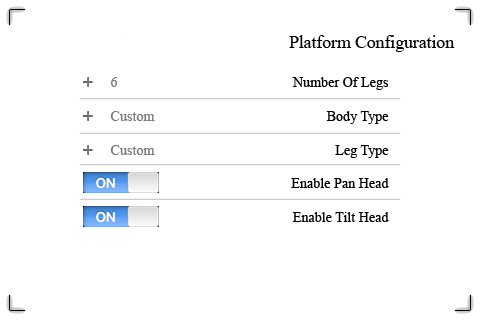 The options are as follows:
Number of Legs
- 6
- 8*
- 10*
Body Type
- H3
- H3-R
- Phoenix
- MSR-H01
- Custom**
Leg Type
- A
- B
- C
- Phoenix
- MSR-H01
- Custom**
(* these lock the body to custom)
(**these unlock extra parameter entry windows)
I have looked through Xans code and the powerpod code to find the dimensions of the different legs and chassis,
but I have not been able to find the dimensions for the H3 or H3-R chassis.
If someone could help me with the following dimensions:
H3-R - Radius from center to the Horizontal Servo
H3 - Distance between the Left and Right Horizontal Servos And Distance between Front and Back Horizontal servos